RIVISTA DI DIRITTO ROMANO

It was in 2001, practically at the turn of the 21st century, when the first issue of the Rivista di Diritto Romano. Periodico di storia del dirittoromano di dirittiantichi e dellatradizione romanística medievale e moderna came out. It was in this way that the immense need for a Roman Law magazine published online was met, whose wake was followed with its own stamp Diritto@Storia (2002) (See VIEW OF MAGAZINES- RIDROM 4/2010); General Magazine of Roman Law (2004) (See VIEW OF MAGAZINES- RIDROM 6/2011) and, so far, the International Magazine of Roman Law (2008) from which we address our readers.
There are many benefits indeed that this tool can have regarding research in the field, starting with the ability to consider this Rivista, just as its introduction conceived, as a kind of electronic center capable of making available to everyone a general picture of the innumerable places all over the world that are interested, in one way or another, in the romanistic discipline, intermediate or comparative law. A platform which contains summaries of juridic and literary texts; links in which vocabulary, repertoires, library catalogs, as well as websites related to subjects of history, archaeology, epigraphy, papyrology, etc.
A magazine which, as an electronic instrument, also offers the possibility of not only updating, in real time, the calendar of romanistic events, congresses or conferences but also maintaining constant and fluid contact with other colleagues; additionally, it is a fundamental objective to make publications that have been recently published available to the scientific community as well as reissues / reprints of older copies (the most important of which being the six volumes of the Basilic in the edition of the Heimbach brothers); indices of works and sources, facilitating the consultation of fundamental works which are difficult for young researchers and universities more recently created to find. A magazine in which even the possibility of "Bacheta" publishing works that are pending of publication is offered. A job which is truly commendable and shows great generosity on behalf of its creators.
All of that, just as we can see for ourselves, with just a click, on behalf of users with a great deal of work and effort, on behalf of those who are part of the team of this visionary, online and open Rivista di Diritto Romano, which is managed by Professor Zuccotti, from his desk in Turin, and which is made up by, as members of his Scientific Committee, professors Andreau, Ankum, Sirk, Torrent and Wacke.
A magazine, in short, just as was expressed in its introduction, in which tension about a past which is still current is combined with its link as a cybernetic instrument, situating it in a present projected onto the future.

INFORMATION OF INTEREST
Start: 2001
Editions: 15 (2015)
Frequency: Annual
ISSN: 1720-3694
Editor: Edizioni Universitarie di Lettere Economia Diritto (LED)
Country: Italy
Webpage: http://www.ledonline.it/rivistadirittoromano/
REVISTA DE ESTUDIOS HISTÓRICO-JURÍDICOS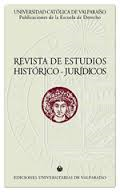 The Historic-Legal Studies Review (RHE), whose first issue appeared in 1975, belongs to the Pontifical Catholic University Law School in Valparaiso, one of the most prestigious and the third oldest Law Schools in Chile.
Primarily aimed at professors and research professors in historic-legal Sciences, not only professionals, but also those training, it includes a wide variety of subjects related to this field. Its main goal is to spread original and unpublished research articles in fields like Roman Law, History of Law (public and private), History of Canonical Law, European Law, Spanish-American Law, as well as History of Iberoamerican National Law, the impossible to forget Chilean Law, or the Legal Dogma and Legal Thought History.
The edition, available in printed as well as on-line and for free, allowing for wider circulation, facilitating access to it, which since the first issue, can be viewed on the website www.rehj.cl.
Under the direction as editor of professor Guzmán, the RHEJ boasts a large board of edition made up of professors from the Pontifical Catholic University of Valparaiso: professors Salinas and Merello, or the Chilean University: professor Dougnac, and with an expert Scientific Board in which the Italian professors Grossi, Bellomo, Schipani and Catalano; Argentinian professors Tau Anzoategui or Levaggi; professor Wacke from the German University of Cologne; Spanish professors Sánchez Bella, Peláez y Fernández de Buján, or professor Bravo from Chilean University are a part.
This publication will turn 40 in 2016 and it is an excellent example of adaptation to the new times and use of new technologies, as it is not only accessible in a traditional format but is also available on-line, which helps the scientific community to go on progressing thanks to an easy and free access to research, thus eliminating barriers and being an open platform to the world.
INTERESTING FACTS
Start: 1976
Issues: 36 (2014)
Frequency of publication: Annual
ISS on-line: 0717-6260
ISS printed version: 0716-5455
Editor: Ediciones Universitarias de Valparaíso
Country: Chile
Website: http://www.rehj.cl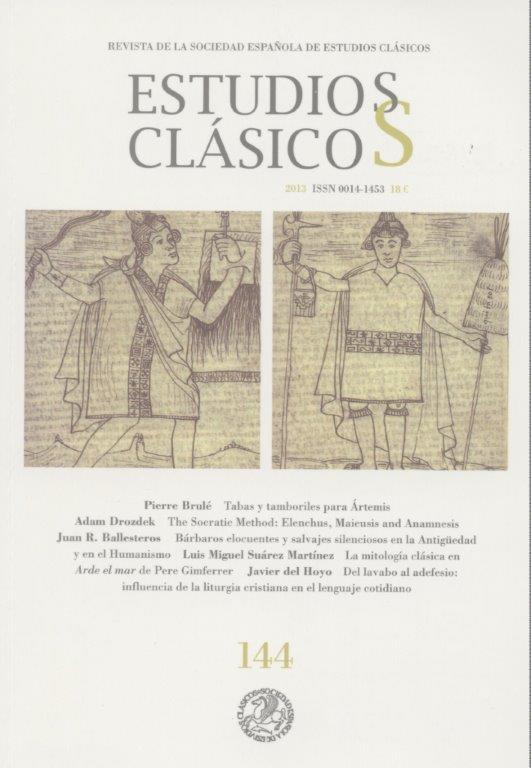 La Sociedad Española de Estudios Clásicos, SEEC, (the Spanish Society for Classical Studies) is one of the oldest and largest scientific partnerships and one of the most important associations of its kind in Europe. Currently chaired by Professor Siles, There are 23 delegations spread throughout the Spanish territory and it has around 5.000 members, some of whom are teachers of Latin and Greek for High School and University Education, researchers from a wide variety of subjects related to the classical field (Classical Philology, Ancient History, Philosophy, Arts, Archaeology, Laws…) and in general terms, people interested in the Roman and Greek period
It´s main objectives are not only the promotion of the knowledge of the Classical Ages as a way to understand our cultural roots but also the strengthening and role of academic subjects related the classical language and culture and its role in our educational system, the support of teachers in their task of teaching by offering them a representative authority as well as updated scientific and didactic information. Moreover, four-year plan meetings and congresses are organized under the support of this association.
Such conventions are considered as the most important Spanish scientific event related to Classical Studies. A wide variety of Spanish researchers within the field of Roman and Greek Literature and Linguistics, the Medieval Latin, the Latin Humanism and the classical tradition take part on them.
In recent years important sections such as Philosophy, Papyrology, Byzantin Empire Studies, Ancient History, Art, Classical Archaeology and Roman Law have also joined the project.
Since it was founded in 1950, the magazine "Classical Studies" is defined as "the SEEC broadcasting bulletin". Tt´s published every six months thanks to all those contributions received and related to the Roman and Greek studies and its current survival. Such articles are interconnected to the classical culture, bibliographic and scientific updating and to the classical languages teaching, all of them divided in three different sections: SEEC´s Articles, Reviews and Activities. A new sector has been recently added: The Guest Researcher, that is to say: the publication of an article translated into Spanish from a foreign researcher related to new and outstanding topics related to the SEEC. As an example, the one published in the last edition of the magazine written by Professor Brulé (Rennes University) who published a research about the status of girls in the ancient Greece named "Knucklebones and tambourines to Artemis".
INTERESTING FACTS
Start date: 1950
Editions: 144 (2013)
Periodicity: Biannual.
ISSN: 0014-1453
Publisher: Sociedad Española de Estudios Clásicos (SEEC).
Country: Spain.
Website: www. estudiosclasicos.org
JRS
THE JOURNAL OF ROMAN STUDIES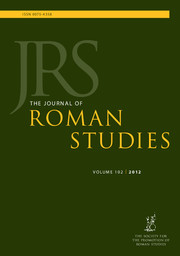 This prestigious publication, that has already completed its first centennial, obeys its existence to the Society for the promotion of Roman Studies, "the sister society" of Society for the Promotion of Hellenic Studies and its homonymous Journal of Hellenic Studies (JHS).
Society for the promotion of Roman Studies, on the other hand, it was founded on Friday, 3 June 1910 at the headquarters of Civil Service Commision in London, under the auspices of members of Hellenic Society, as the professors Gardner, Macmillan and Penoyre; the Professor Haverfiel of the University of Oxford; University of Cambridge, the Professor Laughs; of British Museum, as the professors Smith and Hill and, lastly, the Professor Hallam of Classical Association.
On its foundation in June 1910, the Society for the promotion of Roman Studies joined a group of classic organizations which, like it, survive to this day, such as Hellenic Society, British School at Athens, British School at Rome, Classical Association of Scotland (to which belongs its current Editor, the Professor Greg Woolf) and Classical Association. In fact, with that last a tense relationship took place, after the creation of JRS and not only because this new Journal had been able to enter in competition with to Classical Quarterly (CQ) and Classical Review, but also because own Classical Association, apparently, had been preparing a new journal of roman studies.
With the creation of JRS, Society for the promotion of Roman Studies was able to give execution two of its six initial objectives for which the Society was established: to promote the study of history, archaeology, literature and art of Italy and of the Roman Empire from the earliest times down to about AD 700, in furtherance of the above objects, but not further or otherwise and to publish a Journal whic contain original articles, reports of recent research and exploration in Roman lands, and notices or recent literature.
JRS is run by an Editorial Committe whose current Chairman is Dr Simon Esmonde; Publications Secretary is Dr. Lynn F. Pitts; Professor Catherine Steel is Review Editor and from 2014 on, she will succeed to the current Editor, Professor Gregory D. Woolf who, as he has commented us, has very much enjoyed his tenure as Editor and felt privileged to steward the Journal for a short time.
Together with those already mentioned Editor, Professor Woolf and Review Editor, Professor Steel, JRS has an Editorial Board formed by the Professors Borg, Edwards; Gibson; Gildenhard; Humfress; Kelly; Prag and Thonemann whose work has contributed to that this noted Journal can see the light every month of November and contributions coming from all Europe and America of the North can be included.
From 2010, JRS is published by Cambridge University Press and it's possible to see the chart of contents of the papers published from 1996-2001, in http://www.romansociety.org/publications/journals/journal-of-roman-studies/back-issues.html.
On the other hand, from the year 2002 -2012, the summaries of the published papers can be consulted, in http://www.romansociety.org/publications/journals/journal-of-roman-studies/content-and-abstracts.html.
The Journal of Roman Studies continues being considered as the premier UK journal in its wide field of knowledge covering the publication of articles and peer-reviewed papers on Roman History from its beginnings until A.D. 700) and Latin literature, art and archaeology. Works that contribute, all of them, not only to have a wide vision and a better understanding of the Roman world, but rather they also foment the later discussion of so varied topics as the Roman democracy, the magnitude of the Roman economy, the demographic consequences of the slavery in Rome, Roman religion and a long one etc.. Topics which can interest specialists, students and general public, from all over the world.
INTERESTING FACTS
Birth: 1911
Numbers: 102 (2012)
Frecuency: Annual
ISSN: 0075-4358
Publisher: Cambridge University Press
Country: United Kingdom.
Web: http// www. journals.cambridge.org/action/displayJournal?jid=JRS.
INDEX
QUADERNI CAMERTI DI STUDI ROMANISTICI, INTERNATIONAL SURVEY OR ROMAN LAW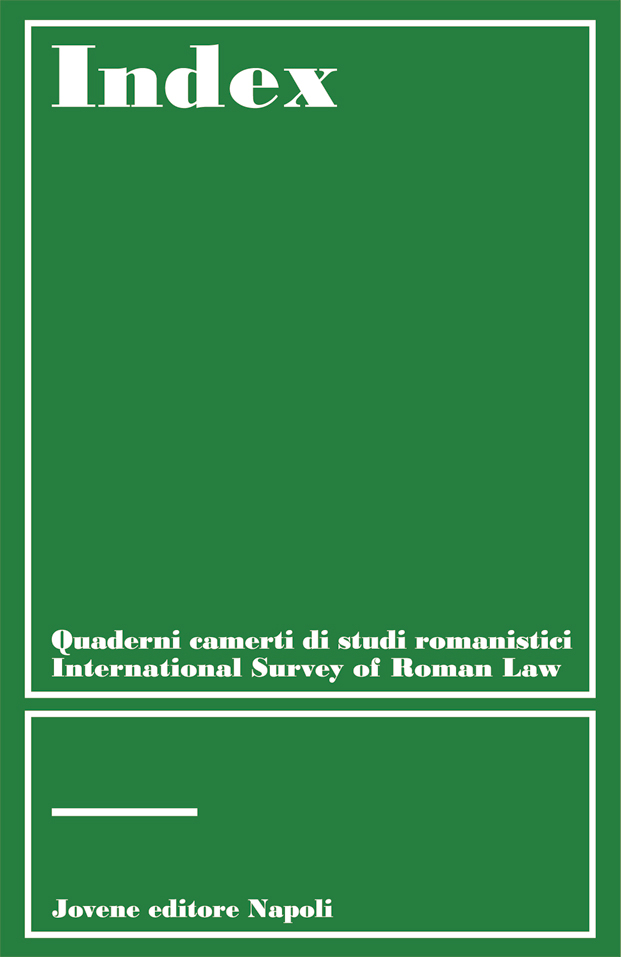 Camerino. January 30, 1969: Council of Faculty of Law. Dean, Pious Ciprotti; Secretary, Pietro Perlingieri. Day order: "Innovazioni negli Annali della Facoltà". Dean communicates to the members of the Council that the Professor Luigi Labruna has planned to carry out as appendix of Annali, a review of Roman Law divided in two sections: 1) Review; 2) Summary of the scientific production of Roman Law of those countries more difficult to obtain news.
A few months later, in october, the Council of Faculty decides that, given the great success of the Professor's proposal -because the scientific importance of the initiative has taken him to have collaborators of more than twenty countries of Europe and of outside of Europe-. what will have been an appendix to Annali of the Faculty, pass to be an autonomous publication directed by the Professor Labruna whose definitive title will be even specified and always with the Professor's expressed commitment of maintaining such an address and the continuity of this publication, still when he had to leave the University of Camerino.
This way, in the year 1970, under the auspices of the Faculty of Law of Camerino and of their School of improvement in civil right, the review was published with the title: "Index: Quaderni camerti gave studi romanistici. International Survey of Roman Law."
The title and the presentation, as innovative as classic at the same time that "pulitissima", they were suggested by Atanasio Mozzillo, one of the first pupils of Guarino that ended up being a great journalist and writer of modern history. In that moment, he was managing the editorial ESI to which Index was initially linked until starting from 1986 (XIV), when it passed editorial Jovene. On the other hand, the bilingual denomination, elect and present from their first volumen, it was advised by the professor of International Law in Camerino, Giorgio Gaja, with the possibility of a coedición agreement and international distribution with the Dutch editorial Oceana that, finally, it was not carried out. Anyway, such a denomination was in agreement with the same purpose with the one that Index was conceived.
Guarino, as all knows master of Labruna -Casimiro Sofo was made call in his original rubric "Sesta pagina" of Index -, when this first volumen was published, he expressed in Labeo, for him directed, a strange scepticism in connection with the duration and rhythm of the publication, at the same time that he favored an extensive and nurtured existence, such as come happening throughout these years, sign that the writing table has always been flooded of material to publish and that fruitful they continue being the relationships, such and like it was the desire of Guarino.
Purpose of Labruna, in the beginnings of the years 70 of S. XX, was to be founded in "the small, dynamics and very old University of Camerino" Index for, in that way, as him it has transmitted us, to renew bonds for broken time and to overcome the ideological skillful barriers and historiography, besides the politicians, existent, propitiating a deep plot of relationships with the athenaeums, institutions of high culture and scientist of all country.
Index was born this way: as fruit of those years in those that the scientific fervor, intellectual and cultural it was remarkable; the same years in those that the investigation and the teaching of the roman disciplines had "maybe entered still in a crisis non resolved" today, like in the year 1972 the Professor Capogrossi recognized- founder together with Labruna and Catalano of Gruppo di ricerca sulla diffusione del diritto romano of which Index ended up being organ starting from the edition of its third volúmen - and that forty years later, that problem continues without being solved.
Index, in words of the Professor Mercogliano, has never imitated other models, still being valuable, neither it is already a copy of reviews consolidated. Index what has sought, as own Labruna expresses us, it is to level the one on the way to the university internationalization in the environment of the science of the world Antiquity, before in the shade or completely unknown, to diffuse new methodologies and historiography tendencies, as well as to offer a limitless horizon of roman production literary .
This way, as the Professor Masi Doria indicates us, we can say that the genetic sign of Index consists in that still being an Italian and roman review, however it is projected to the reciprocal knowledge, it is an international bridge toward difficultly accessible or excluded realities, as well as an extension and everything with the purpose of context the phenomenon of the Roman Law from the historical, political and economic point of view.
Those near four hundred pages of their first volumen and the eight hundred of the last of those published, next to the thousands of pages that are of their XXXIX volumes, group in the diverse summaries that Index contains. To this respect, in the moment in the one that we are, facilitates the investigation work a lot that, thanks to NNTT, from the Volume I, published in 1970, to the Volume XXXI, corresponding with the year 2003, these summaries can be consulted in the address of internet: http://www.dptromano.unina.it/rivistaindex/sfondo.htm#Articles
On the other hand, those corresponding with the Volume published in the 2007, XXXV, to the summary of the year 2011, XXXIX, they can be consulted in http://dialnet.unirioja.es/servlet/revista?codigo=8476 for that that only the summaries of the years 2004-2006, at the moment, they are not in the net.
As closing of our humble homage to Index in our View of Reviews, serve the contents of the Editorial and of the Exordium, carried out respectively by Labruna in the first volumen of Index, and picked up for the professors Masi Doria and Mercogliano in the homage volume to their thirty years of existence. We believe that still today, forty two years after their publication, they continue serving us as reflection and of reason to continue working in our investigations and to continue given in the best way possible to our teaching, having as backdrop and that this makes headway us in the future:
"In a particular moment for the teaching and the investigation of the Roman Law disciplines and stiller in their teaching in the University. A time of crisis of methods and contents. of structures and university conceptions, but also of appearing tumultuous, and even positive of an important comparison with social and cultural new realities, Index offers the occasion for a reciprocal better knowledge among those that are dedicated to the study and the teaching of the Roman Law, whichever it is the political, cultural and juridical atmosphere in which they work".
INTERESTING FACTS
Birth: 1970.
Numbers: 39 (2011).
Frequency: Annual.
ISSN: 0392-2391
Publisher: Jovene Editore.
Country: Italia.
Web: http://www.dptromano.unina.it/rivistaindex/